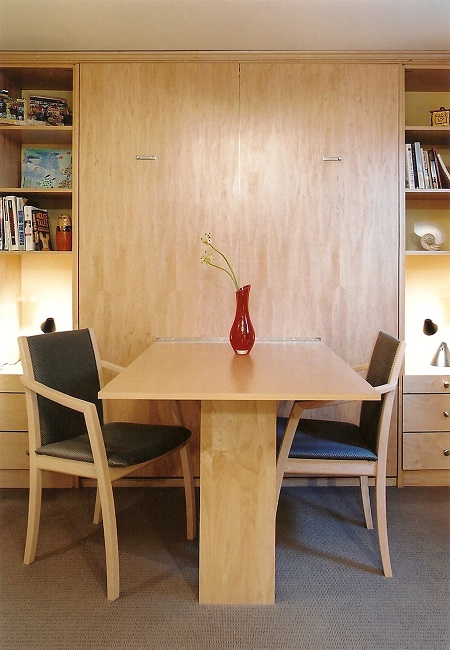 Client Needs
"Atif and Doreen" wanted to stretch their basement in two different directions; a comfortable, quiet, and isolated home office for Doreen and a specialized listening space for Atif's passion for records. With grand 'someday plans' to convert the attic into a master suite, and concerns about the century-old foundation's integrity in a seismic event, the remodel was the perfect time to reinforce the aging substructure.
Remodel Highlights:
The newly remodeled space provides Doreen a highly functional home office removed from the bustle of family life. Including a new full bath in the basement level remodel aids her work-life separation. And now overnight guests have their own private bath.
Atif finally has the audio room that he'd always wanted. Precise dimensions, custom-built cherry cabinets, and sound-dampening panels enhance the acoustics and ambience of the space. A series of halogen ceiling lights set the mood with the touch of the remote dimmer.
The new staircase provides a welcoming entranceway to the home office and audio room. Copper balustrades gleam against the natural beauty of clear fir. A finished post and a header above allow additional head height.
Client Testimonial
I am thrilled to recommend Renovation Innovations and Bert Hansen.  Bert was extremely mindful of our small children and pets in the house so there were never any hazards on site.  Bert was highly responsive to alterations, questions, and scheduling conflicts.  Bert kept the communications open and everything on schedule.  It was such a smooth process that we hired Renovation Innovations to manage our more complicated attic remodel which involved extensive whole house alterations while we were all still living there. That, too, went better than expected.
Do not hesitate to hire Renovation Innovations – you will enjoy the project and have an ally for whatever the future brings to your home.
Details for Architects:
To ensure a dry basement, all downspouts were routed to a new drainfield in the front yard composed of Infiltrator segments.
To secure the 100-year-old brick foundation in place, plywood shearpanels secured by custom hold-downs were epoxied into the base of the wall. The weight of the house, in conjunction with wedge anchors in the floor slab, secured the shear panels.
Because the new fixtures would be below street level, code required back flow prevention for the waste line. To keep the access cover out of the middle of the new bathroom's floor, the waste line was looped under the adjacent stairway. There, it can be accessed easily through an unobtrusive under-stairway door.
*Client's name changed for privacy
More Pics
---