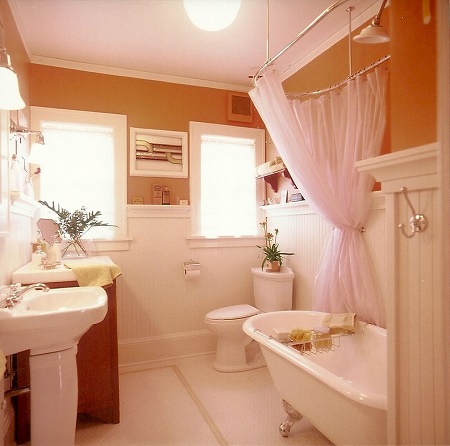 Client Needs
"Bob and Leanne" had invested great time and thought in restoring period detail to their 1920s bungalow. With two young children growing up quickly, this old bathroom had to meet the family's future needs. Functionality became the priority. Because of health issues in the family, great care had to be taken with materials selection and dust control during the remodel. See the before picture »
Remodel Highlights:
To balance the budget with the desire for period personality, we selected affordable, quality fixtures, maintained the original envelope of the bath, and got creative with the layout. As a result, Bob and Leanne could splurge on a custom-crafted, freestanding cabinet that added much-needed counter space and storage. Using extra floor tile for the cabinet's counter settles the piece into the room and provided a durable, child-resistant surface.
The sink hides a neat detail; a built-in laundry chute opening into a hamper in the basement.
In consideration of the family's health concerns, we took great care to test all layers for asbestos before demolition. All of the new materials were vetted for the same concerns. Low VOC emission paints were a natural choice.
Client Testimonial
★★★★★
Best project experience
I had a gorgeous bathroom remodel/restoration by Renovation Innovations. All the workers were considerate, respectful and tidy. Bert had great ideas, was on site a lot and did most of the finish work himself, including wonderful woodworking and finish carpentry. I also experienced great communication and none of the long delays I expected. Overall a wonderful remodel with well-experienced sub-contractors.
-Insider Pages Reviews for Renovation Innovations, Inc.
Details for Architects:
The sink was the only fixture that required modification; a move less than two feet toward the door. By rotating the existing "T" where the drain enters the wall, our plumber extended it to form a wet arm, sparing the budget from a potentially costly removal and re-plumbing.
*Client's name changed for privacy
More Pics
---