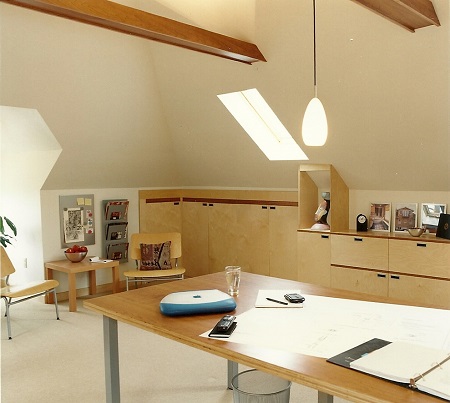 Client Needs
"Mike" needed a home office. His daughter needed her own bedroom. Moving homes was out of the question. "The Russells" had already made a substantial remodel to their beloved home, and they loved their neighborhood. The obvious solution: expand the attic into a complete home office. See the before picture »
Remodel Highlights
Skylights and energy-efficient windows provide natural light and compliance with city glazing requirements.
Forward-thinking legal egress windows and permitted sleeping space reserves the option to convert the room into a legal bedroom in the future.
Low-voltage halogen lighting in the false cherry plywood beams provide fantastic ambience and full spectrum indirect light.
Task lighting over the worktable and stair landing, and in the dormers, provide abundant lighting for work and play.
Florescent lighting in the eave storage space mitigates the traditional frustration of accessing long-term storage.
Details For Architects
Under-sized and overloaded, the 2×4 rafters had bowed to the pressure of time. We rebuilt the framing to provide proper support. For the rafters, we reinforced the existing 2×4's with new 2×6's. This allowed 4" of rigid insulation to provide R30 protection in the 5½" cavity while still leaving 1½" of vertical space for the roof to breathe. The space sheeting from the original cedar roofing provided horizontal ventilation.
For an energy efficient envelope, the rigid insulation goes from the peak all the way out to the eave, not just down from the top of the pony wall. This provides clean, heated storage without disrupting the budget or having to insulate the back of the pony wall and weather-strip all the access doors to the eves. To accomplish this, the room was partially wired, insulated, dry walled and primed. Then, the pony walls were constructed. The remainder of the rough-in wiring was completed, and the construction continued as usual.
The very large double-flue stack was removed and a Power-Venter was installed in the basement to accommodate the existing 80% furnace and gas hot water heater. This opened up the room dramatically and provided a very nice chase for new ductwork and wiring.
*Client's name changed for privacy
More Pics
---